Testimonials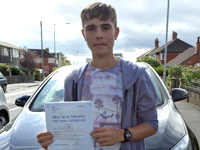 Lewis Bulcock
Passed first time
Thanks Les for all the help in passing my test - I would not have been able to do it without you.
Chris Tonge
Just want to thank you for all you have done to help me pass. Great teacher and not too serious - have had a good laugh along the way.
Samantha Moss
Les, thank you so much - your complete calm patience and belief meant so much and gave me the confidence to restart my lessons and pass my test first time with you - 11 years after originally taking lessons.
Martin McGuiness
Les, just wanted to drop a quick note, which you can use on the website if you wanted. I've been driving 'solo' for 4 months now since I passed with you, due to work, alot of motorway stuff between Manchester and Liverpool and Northwales. I often find myself thinking back to the lessons when I'm driving as your advice was so good. I'm not sure if I could have gone solo so early if it wasn't for your teaching. Many thanks for the lessons - there were some bad times, and some good times, but you really helped me when I even doubted myself. Hope things are well with you, I keep any eye for a black 207 (?) when I'm in Radcliffe. Many thanks again, you gave me the skills to get mobile!
Sam Doyle
Thanks Les you were fantastic right from the start. The best teacher ever!
Carl Pennington
Thanks for all your help in getting me through my driving test - I never expected to pass first time. Switching instructors was the best thing I ever did as I am sure I would still be having lessons.
Call today on 07793 982064 or Email me to find out more
If you have any questions or to book lessons today, feel free to contact me